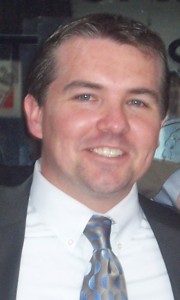 Thomas S. Radja Jr. formed the Law Office of Thomas S. Radja Jr. in March 2007 and partnered with Cary Collins in 2010. His practice consists primarily of Police and Fire Pension, Discipline Defense and Administrative law. He has represented Police and Fire Pension Boards in all aspects of the law from policy administration to litigation both at the administrative level and before the State Circuit and Appellate Courts.
Mr. Radja has tried police and fire disciplinary cases before both police and fire commissions as well as Merit Boards. He is admitted to the State Bar of Illinois as well as the Federal Trial Bar. Mr. Radja has tried two Federal Civil Rights jury trials on behalf of police officers resulting in multi-million dollar verdicts in 2006 and 2007.1 Tom's practice involves representing clients both in and out of the courtroom in a broad variety of areas including police and fire pension board representation, disability applications on behalf of police and firefighters, employment law, civil rights litigation, and workers compensation. Mr. Radja has given seminar instruction and written numerous articles on topics including disability and pension benefits, workers compensation and its interplay with police and fire pensions, as well as articles pertaining to police and firefighter discipline.
Thomas Radja was selected for the inclusion as a Rising Star in the 2009-2010 Illinois Super Lawyers publication.
PRACTICE AREAS:
Police & Fire Disability and Pension Board Representation
Police & Fire Discipline Defense
Civil Litigation at Federal and State Level
Labor & Employment Law
Workers Compensation
EDUCATION:
The John Marshall Law School, Chicago, IL, (J.D., 1999)
University of Illinois, Urbana-Champaign IL, (B.S., 1996)
St. Rita High School, Chicago, IL (1992)
ADMISSIONS & QUALIFICATIONS:
Illinois Bar, 1999
United States District Court for Northern, and Central Districts of Illinois. Trial Bar certified in the Northern District of Illinois.
MEMBERSHIPS & AFFILIATIONS:
Illinois State Bar Association
American Bar Association
Federal Trial Bar Association
HOBBIES:
Tom comes from an ice hockey family. He played for the University of Illinois Hockey Team, ACHA Div.1, from 1992-1996. Tom currently Coaches his three boys who also play hockey. Tom's brother plays professional hockey.